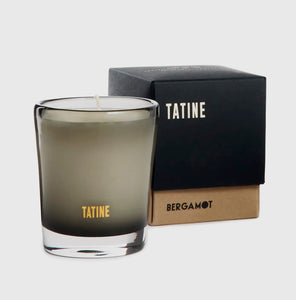 Tatine Bergamot Candle
Crisp, sparkling citrus notes enriched with ginger, bergamot, and aromatic magnolia flower. Lime essential oils are anchored with green mossy notes and grounded by warm Indian sandalwood.
8 oz. soy wax candle in artisan mouth-blown smoke grey glass. When burned properly, you will enjoy 60 hours of a delicate fragrant atmosphere.
This smoke grey glass was handmade and mouth-blown by skillful artisans and was created to be beautifully repurposed. Each piece is unique unto itself, imbued with the spirit of the maker.
Tested to be drink-safe. Gently hand wash glass for use at your next celebration and let it live uniquely on.
Skilled papermakers craft this paper stock using 100% certified reusable energy. The design is intentionally constructed without adhesives and is created using 30% reimagined post-consumer materials artfully produced using craft manufacturing and repulpable foils.
Flatten the beautiful origami-style box, as the scent of each candle leaves its mark and can be slipped into a drawer to emit a delicate fragrance.