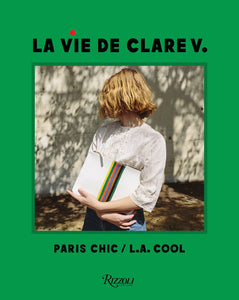 La Vie de Clare V.: Paris Chic/L.A. Cool
The debut book by fashion and lifestyle designer Clare Vivier, whose eponymous brand has expanded from her Los Angeles home base to become the epitome of bohemian American chic.
In 2008, Clare Vivier, now known as the "Queen of the Clutch," wanted to create a brand where women could find joy. She started Clare V. as a collection of handbags and accessories, and later introduced clothing and lifestyle designs that embrace classic shapes with uniquely graphic and modern details. The Clare V. aesthetic is an unexpected, colorful marriage of bohemian French chic and relaxed American prep—a reflection of the designer's style influence and life, which she divides between L.A. and France. Devoid of hardware or logos, the brand places an emphasis on craftsmanship, authenticity, and functionality—while also creating a
le cute
collection designed for women by women.
Celebrating fifteen years of Clare V., this vibrantly hued volume takes readers through Clare's journey and inspiration: from her childhood in Minnesota and years in Paris, to the creation of an iconic, female-owned American company that responds to women's needs today. Each page is replete with a colorful mix of imagery: collages of iconic bags and accessories, inspiring mood boards, selfies and personal photographs of Clare's travels, and street style shots of Clare V. designs worn across the globe. Also featured are special collaborations with the Beastie Boys' Mike D., Donald Robertson, and Every Mother Counts, and anecdotes from friends, celebrities, editors, and artists including Melissa McCarthy, Adam Scott, Shannon Watts, Christy Turlington, and Laura Brown.
A journey through the people, places, and things that inspire Clare and her brand, this stylish tome, printed with a luxe cloth hardcover and ribbon bookmarker, celebrates fashion, design, travel, and creative communities.