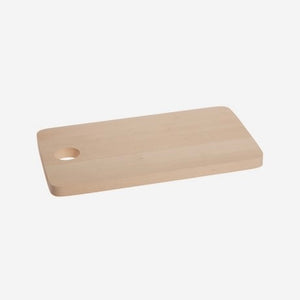 Iris Hantverk Cutting Board
The cutting board is manufactured in Sweden in the untreated birch. Wood is a living material that must be handled with care. For durability, a new cutting board should be treated before use. Start by wiping your cutting board with a clean, dry cloth. Then apply a good amount of a food-grade oil. Repeat the treatment several times until the surface feels saturated and no longer absorb oil (about 3-5 times). This treatment should then be made occasionally during the cutting board's entire lifetime to prevent cracking. When the surface starts to feel worn-out after a few years of use, take a fine sandpaper and sand the surface lightly.
Do not forget to oil it again afterwards. Washed the cutting board by hand after use. Rinse the board under cold and then hot water. If necessary, use a mild detergent and wipe dry. Never wash it in the dishwasher or leave it in the sink to soak. PEFC / FSC certified.
Small: 32.5 cm x 18.5 cm x 1.8 cm
Large: 44.5 cm x 20.5 cm, 1.8 cm