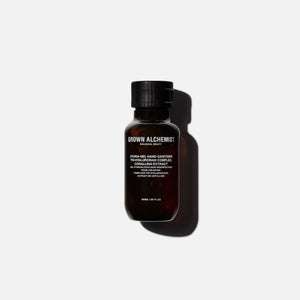 Grown Alchemist Hydra-Gel Hand Sanitizer
A non-drying, antiseptic gel hand sanitiser formulated with 70% Ethyl Alcohol extracted from Cane Sugars, with Hyaluronan and Antioxidants to instantly sanitise while hydrating and protecting the hands from being stripped of moisture, safeguarding against premature aging.
50 mL
Ethyl Alcohol from Cane Sugar kills bacteria while Hyaluronan noticeably increases hydration levels.
Coconut Oil releases triglycerides that along with fennel remove dirt and grime.
Cold Pressed Sweet Orange Oil restores balance to skin while Sweet Almond Oil boosts the skin's lipid content and preserves moisture levels.
Pot Marigold provides flavonoids which leave the skin calm and soothed.